Porn Site Review
Site Information
Content Quality:
Content Amount:
Updates Frequency:
Content Exclusivity:
Design & Navigation:
Overall rating:

90

/100

Prices:
$28.95 / 30 days, $58.95 / 90 days
Content:
Pictures: 300+ (80 scenes); High resolution: No; Zip archives: No
Videos: 80+ (length: ~20 min); HD: No; Full length: Yes; Streaming: No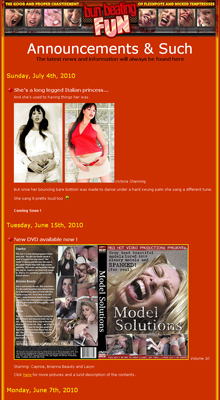 Shot #1 | Shot #2 | Shot #3
All men love looking at girls' bare asses, that's no doubt. However, there are also men who love a very special kind of asses - the bright red spanked bottoms of sexy young girls with eyes full of tears, mouths twisted in grimaces of pain and anger: Whew, this description by itself was enough to get me horny. Feels like I have to slide into the spanking porn archive of Bun Beating Fun to get rid of the boner that I'm sporting. Yeah, by the way, this site is what I will review tonight. ;)
Bun Beating Fun is a site focusing solely on bare ass spanking videos and pics - no kinky powerplay or hardcore fucking to complement it: only slow focused process of playing with soft bouncy cheeks of adorable young girls being spanked. All this goes in front of the camera - close-up shots are frequent and very enjoyable. All in all, there are 82 models featured at Bun Beating Fun - and none of them escapes the sickeningly exciting treatment generously provided by ripped men with very, very heavy palms.
The quality of content here is alright - the spanking pics by Bun Beating Fun are plain screenshots - but they are enough to enjoy this or that hot-ass moment of any video you choose anyway. The movies, in their turn, are cool - their bitrate of 3000+Kbps will allow you to enjoy that genuine spanking porn experience that you came here for, no doubt. The updates are nice-sized and regular, which ensures the non-stopping development of this resource, which is absolutely a must. Oh yeah, and don't forget to pop into that Links section - each and every spanking sex fan ending up in there is guaranteed to find loads of exciting stuff for himself there.
I'm not trying to lure you into checking Bun Beating Fun out but, believe me, one look at an irritated little booty burning red in front of the cam at that site will speak louder than a thousand of words in this review. If you like spanking porn at its best, not mixed with anything else, this resource will definitely give you what you need.
Visit Bun Beating Fun