Porn Site Review
Site Information
Content Quality:
Content Amount:
Updates Frequency:
Content Exclusivity:
Design & Navigation:
Overall rating:

91

/100

Prices:
FREE / 2 days trial, $39.95 / 30 days, $69.95 / 90 days
Content:
Pictures: 10'000+ (106 scenes); High resolution: No; Zip archives: No
Videos: 106+ (length: ~10 min); HD: No; Full length: Yes; Streaming: Yes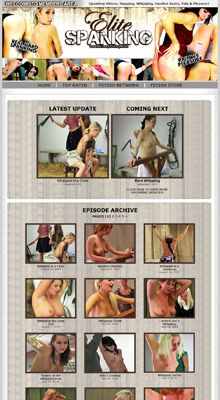 Shot #1 | Shot #2 | Shot #3
Elite Spanking is the kind of spanking porn site that makes you fall for it from the very first seconds you spend on its pages, no lies - and there are a whole lot of reasons for that. First of all, I just can't leave the beauty of the girls featured here unnoticed - the girls starring both in f/f spanking and in f/m spanking episodes, I mean. They have hardly got anything in common with all those worn-out pro female whipping porn stars that every other site is just packed with - the girls forming the cast of Elite Spanking are all very fresh, delicate and so amazingly tender... It's such a pleasure to see them yelling and weeping every time the whip, the flogger or the heavy palm of their partner lands onto their hurting asses or back. Love it! Frankly, that's what I call blameless erotic spanking.
The thing that attracts me even more in Elite Spanking is the fact that its collection of female whipping content is a pretty nice-sized one. Right now there are 106 scenes available here - 106 spanking videos and 106 sets of spanking pics, I mean - and the best part is that by the time you get to this site's Members area, this showing will probably get even larger as Elite Spanking gets updated on a weekly basis. The quality of content supplied by this one is also fairly high - its DVD-quality videos and pretty large screencaps made from them will impress even the most demanding admirers of erotic spanking content.
Oh you find an archive containing 106 scenes too small? You are such a greedy guy, homie, shame on you! Anyway, Elite Spanking will give in to you and give you quite some extras inside the Network section - there are 40+ more fetish and BDSM porn sites offered to you, about 4 of which are dedicated to female whipping as well! Whew, that has just multiplied the choice of erotic spanking content that you can potentially lay your hands on by 5 since hardly any of those bonus sites is smaller than Elite Spanking. This already upgrades this resource from a good one to a must-see! :)
Visit Elite Spanking