Porn Site Review
Site Information
Content Quality:
Content Amount:
Updates Frequency:
Content Exclusivity:
Design & Navigation:
Overall rating:

90

/100

Prices:
$7.95 / 3 days, $29.95 / 30 days, $74.95 / 90 days
Content:
Pictures: 12'000+ (207 scenes); High resolution: Yes; Zip archives: Yes
Videos: 135+ (length: ~14 min); HD: Yes; Full length: Yes; Streaming: No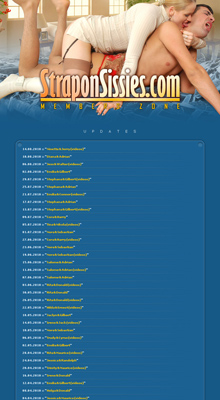 Shot #1 | Shot #2 | Shot #3
Alright, here comes another strapon porn site where forced feminization of men is regarded as a must before rough sissy slut training. Well, it's no surprise actually - strapons are originally intended for use on women and the femdom mistresses featured here at this site don't want to break the tradition by putting it on the male asses. First turn that naughty guy caught wearing female clothes into a real bitch - and then fuck him like you would fuck a real bitch. Jeez, the action exposed at this forced strapon sex site is hot and brutal enough to blow your mind.
Before I visited Strapon Sissies I used to think that women rough enough to take part in forced feminization of men were the rare species but... Now I'm on the inside of this one and I'm just stunned as there turns out to be so many of them! This site's Members area contains 135 strapon videos and 207 sets of strapon pics! The latter showing is very surprising, in fact - could you expect to find more stills than videos inside this resource? And the most unexpected fact is that these photo sissy slut training episodes contain something bigger than plain screencaps - the pics forming them are real full-size photos with the resolution of 1500x1000Px. They match the 1280x720 at 3300Kbps HD movies just fine, I guess. The fact that they are all 100% exclusive and up-to-date is surely out of question - Strapon Sissies gets updated once in every four days, so it can surely afford it.
Such a stunning collection of pics and videos fully dedicated to the exciting process of forced feminization of men spiced up with rough strapon fucking... This is something. Frankly, it is what I expected to find hiding behind the fairly modest design of Strapon Sissies the least. Yes, this site looks kind of shitty from the outside - and that's exactly what makes the process of surfing its mind-blowing insides even more pleasant. Feels like finding a huge diamond hiding in a pile of dirt, you know. :) Strapon Sissies rocks - 100% recommended must-see.
Visit Strapon Sissies