Porn Site Review
Site Information
Content Quality:
Content Amount:
Updates Frequency:
Content Exclusivity:
Design & Navigation:
Overall rating:

90

/100

Prices:
$34.95 / 30 days, $69.95 / 90 days, $119.95 / 180 days, $179.95 / 365 days
Content:
Pictures: 0+ (0 scenes); High resolution: No; Zip archives: No
Videos: 168+ (length: ~25 min); HD: No; Full length: Yes; Streaming: No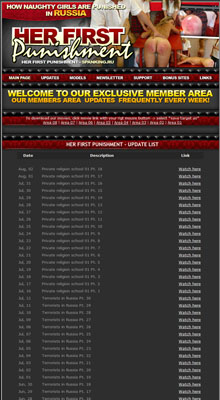 Shot #1 | Shot #2 | Shot #3
I have always thought that them Russians were crazy brutal bastards knowing no mercy towards each other as well as to people around them - but after visiting Her First Punishment, I understood that it actually wasn't that bad at all! This Russian spanking site is where merciless bastards turn into skillful punishers and where lewd young bitches turn into perfectly submissive chaste girls after extended sessions of public spanking and punishment. And yeah, just like the name of this resource states, all the girls featured here are first-timers. Wanna know the reason why they are? You see, spanking naughty girls half-dead seems to be a tradition is Russia - that's why the models never come back into the biz after receiving their very first spanking treatments. :)
Her First Punishment is a hard spanking porn site with a very rich history, which is perfectly observable. Simply take a look at the size of this one's collection - there are around 168 spanking videos here at the moment and their number is growing larger and larger steadily with all those countless new releases being added into the Members area every single day. What I also noticed in here was the fact that every Russian spanking scene available was ending up with the spanked girl's ass getting terribly bruised. Just like I said before, Her First Punishment ain't got anything to do with goodie-goodie staging stuff - what the bitches get here is so rough. Rough beyond belief. I really recommend you to view the spanking pics for each of the scenes - this will allow you to see the mouthwatering red asses of the featured freshies in close-up.
What else can I say here? The quality of the pics and videos is surely high enough for amateur stuff - what I myself love most are the 720x576Px videos. The bonuses? Well, be prepared to get stunned by the variety of choice here. In addition to 41 hard spanking extra scenes you get the contents of 12 other spanking resources for free! Don't waste no more time - see it all right now!
Visit Her First Punishment